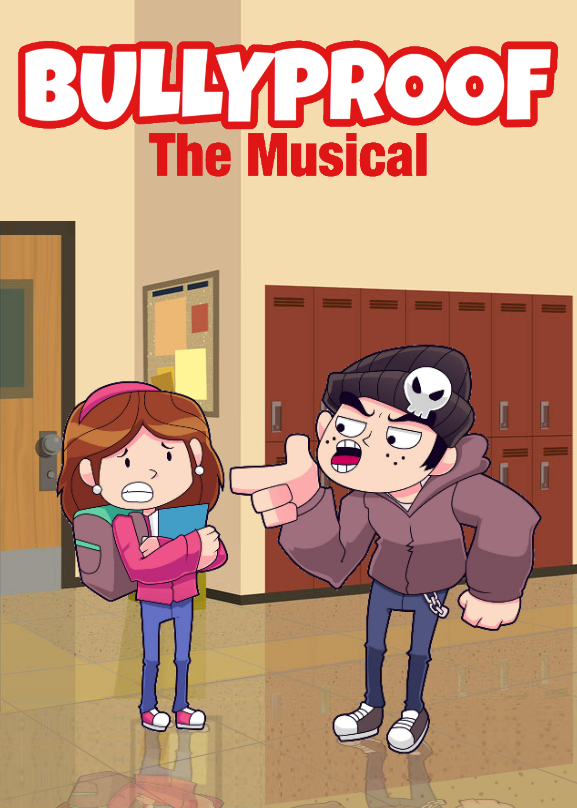 An original play by PLAY'N AROUND THEATRE COMPANY

WHEN PENELOPE JANE HEARS THAT ELY SHOEMAKER, THE BIGGEST BULLY AT PLEASANTVILLE JUNIOR HIGH HAS BULLIED
HER BEST FRIEND BERNADETTE BERNSTIEN, SHE JUST KNOWS THAT SHE HAS TO COME UP WITH A WAY TO STOP HIM FROM DOING IT AGAIN. BUT WHAT CAN SHE DO? JOIN PENELOPE JANE AND HER FRIENDS BERNADETTE, EUGENE AND MR. FRICKELL AS THEY LEARN THAT TO "BULLYPROOF" YOURSELF YOU MUST FIRST TAKE A
S.T.A.N.D.

Bullyproof The Musical is a hilarious, yet poignant live musical theatre production, that will teach your students a new approach to resolving bullying issues. Just like the characters in the show, your students will learn that to become BULLYPROOF they must first take a S.T.A.N.D.

Reserve your date today to Bullyproof your school.
727-255-3514
playnaround@me.com
BULLYPROOF the Musical: taking a stand against bullying across the Tampa Bay area
POSTED BY: Maria Mangicaro
Tampa, FL: For over 10 years the Play'N Around Theatre Company has provided live educational musicals to theatres, schools, libraries and community events. BULLYPROOF the musical is an anti-bullying musical program that empowers children to stand together against the growing issue of bullying and violence in schools and communities. Across the Tampa Bay area BULLYPROOF is not only creating an awareness of bullying prevention, but is providing real tools for those dealing with bullying in real life. The show is recommended for all students.